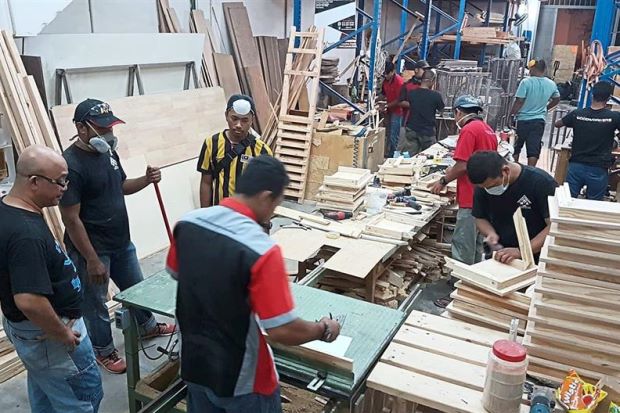 PUCHONG: Volunteers worked round the clock all through last weekend to make furniture for the Kampung Datuk Keramat tahfiz that was razed last month.
The 30 woodworkers with the Malaysian Woodworkers Association (MWA) made 60 book rests (rehal) and three storage racks, and they still have lots more to do.
MWA president Zamri Yusoff, who mobilised the members for this good cause, said the decision to help the tahfiz was unanimous, and members came from the Klang Valley, Perak, Melaka and Johor to help out.
"The response from our members has been overwhelming.
"We had way more volunteers than tools, and the workshop was stuffy and cramped but the spirit of gotong-royong was so strong ... it was good
"They (the tahfiz) didn't ask us for help at all. We really wanted to do something," he said.
The Darul Quran Ittifaqiyah tahfiz tragedy killed 23 people, including 21 children.
Zamri said apart from woodworkers who contributed their time and skills, non-governmental organisations and members of the public also chipped in by donating raw material and cash.
"We will meet to make the furniture every weekend till the end of October or early November as we still have a lot to make ... cupboards, beds, desks and more racks.
"God willing, we have more volunteers and more tools this weekend," he said.
He added that MWA usually does a community service project one weekend every month, but this was a special case as the tahfiz needed help urgently.
The MWA headquarters is located at Kayu Emas Woodcraft in Bandar Bukit Puchong, which is founded by Zamri.
He estimated the cost of making all the items would be close to RM55,550, and to date, the association has received about RM10,000 in cash as well as pledges to sponsor the materials.
"To be honest, I don't worry too much about funding. If we do it with sincerity, I am certain God will provide."
Zamri also runs workshops to encourage more people to take up woodworking.
Star2 journalists joined his class as part of The Star's Keep Curious project to encourage people to pick up new skills.
Read about their novice attempts at making furniture in Star2 today.
Read more at http://www.thestar.com.my/news/nation/2017/10/06/woodworkers-labour-to-rebuild-burnt-tahfiz/#avyY63bkVX1JugLp.99